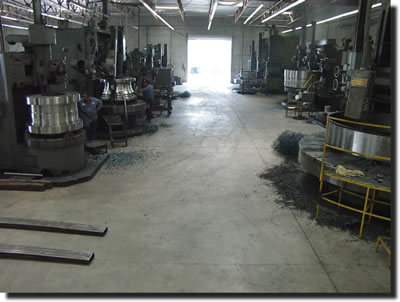 West Coast Machining, Inc., produces precision gear blanks from 1.0 inch up to 174.0 inches in diameter. These gear blanks are manufactured with the same skill and dedication used in producing our tooling and production work. We use our large varieties of machines to turn gear blanks quickly and efficiently. Our background in forging tools lends itself to extremely cost-effective gear blank production."
West Coast Machining tools are used to produce parts for every jet engine in the world. High temperature alloy forgings are formed using West Coast tools to produce high-quality, precision forgings. These forgings are then machined into parts for jet engines. "Our tools are at the beginning of a vital manufacturing process that ends with the completion of a state-of-the-art jet engine."
West Coast Machining is proud of the quality and workmanship of its products. Years of knowledge and experience, combined with outstanding customer service, means that West Coast Machining is your first choice for top-quality tools and production rings for the aerospace industry.
Processes

| | |
| --- | --- |
| | Straightening |
| | Trepanning |
| | Welding |
| | Stress Relieving |
| | Heat Treating |
| | Flame Cutting |
| | Saw Cutting |

Exotic Alloys

| | |
| --- | --- |
| | 6-4 Titanium |
| | Waspalloy |
| | Inconel 625 & 718 |
| | Nitronic and More |

Carbon & Tool Steels

| | |
| --- | --- |
| | 4340 |
| | 52100 |
| | Nitralloy |
| | H-13 |
| | 300M |
| | FX T-2 and More |

Aluminum Alloys

| | |
| --- | --- |
| | 2011 |
| | 2024 |
| | 2219 |
| | 6061 |
| | 6063 |
| | 7075 |
| | K100tm and More |

Capacity

| | |
| --- | --- |
| | 32" Axelson - 44" Max Swing 120" Between Centers |
| | 20" Axelson - 27" Max Swing 96" Between Centers |
| | 24" American - 28" Max Swing 14" Between Centers |
| | 25" Axelson - 38" Max Swing 134" Between Centers |
| | 20" Axelson - 24" Max Swing 115" Between Centers |
| | 20" Axelson - 26" Max Swing 67" Between Centers |

Mills

| | |
| --- | --- |
| | Cincinnati Hy-Drotel - 28" x 144" XY Capacity |
| | Sharp KMA Mill - 20" x 76" XY Capacity |
| | Kearney & Trecker - 18" x 88" XY Capacity |
| | Milwaukee Mill - 15" x 64" XY Capacity |
| | Gorton Mill - 10" x 41" XY Capacity |
| | Rockford Planer - 32" x 144" XY Capacity |

V.T.L. Machines

| | |
| --- | --- |
| | 168" King - Max Swing 174" Max Under Rail 91" |
| | 144" King - Max Swing 154" Max Under Rail 91" |
| | 96" Schiess - Max Swing 103" Max Under Rail 55" |
| | 80" Cincinnati - Max Swing 88" Max Under Rail 60" |
| | 72" Colburn - Max Swing 75" Max Under Rail 48" |
| | 57" Schiess - Max Swing 59" Max Under Rail 30" |
| | 52" King - Max Swing 55" Max Under Rail 38" |

MIL-I-45208A - Quality System

MIL-STD-105 - Sampling System

MIL-STD-45662 - Calibration System